Do you have an e-commerce website and want to make the most of eMailChef to increase your sales?
By creating a list segment and using an autoresponder, you could send an abandoned cart email to all users who have left at least one item in the cart without completing the purchase.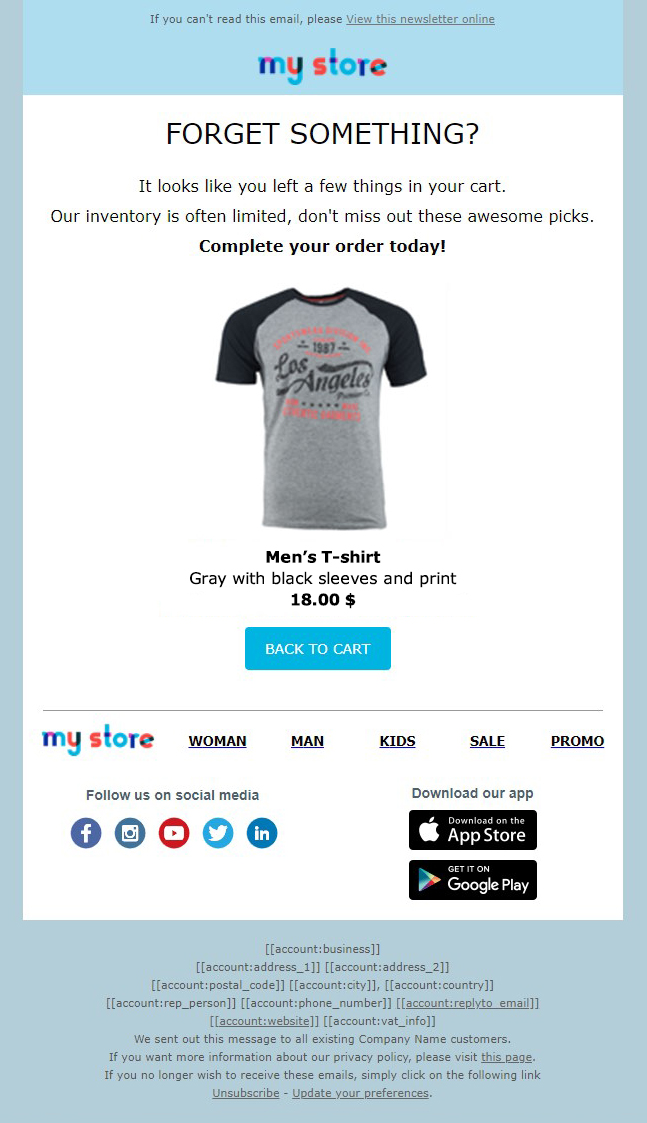 Let's see how to send an abandoned cart email to your contacts.
First, make sure you have already linked an e-commerce plugin such as PrestaShop, Magento, or WooCommerce to a list in your eMailChef account.
To link an e-commerce plugin, watch the following video tutorials: connect PrestaShop to eMailChef; connect Magento to eMailChef; connect WooCommerce to eMailChef.

1. Create a segment to identify contacts who have left items in their shopping cart. In the first field of the list of conditions, select "Abandoned cart Yes / No". Check the last box to affirm the condition. Click "SAVE AND REFRESH COUNT" to create the list segment.

2. Create a template for your abandoned cart email. eMailChef has blocks created specifically for this function in its editor. You can find these blocks in the "Specials" category.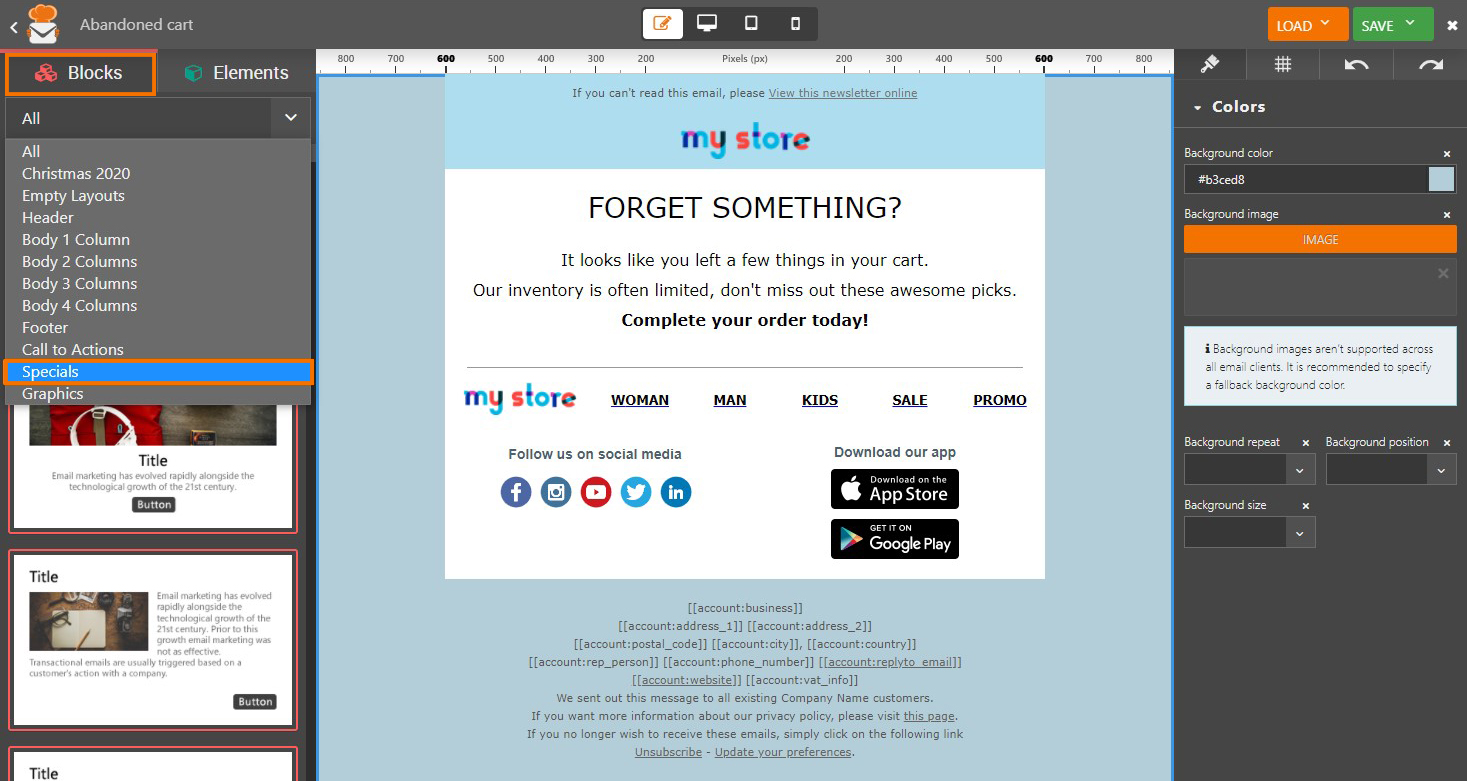 The blocks include a box that will automatically be replaced by the image of the most expensive product left in the cart by the user. The blocks also contain placeholders that will correspond to the product data (name, description, price, and currency) and a button linked to the product page on the website.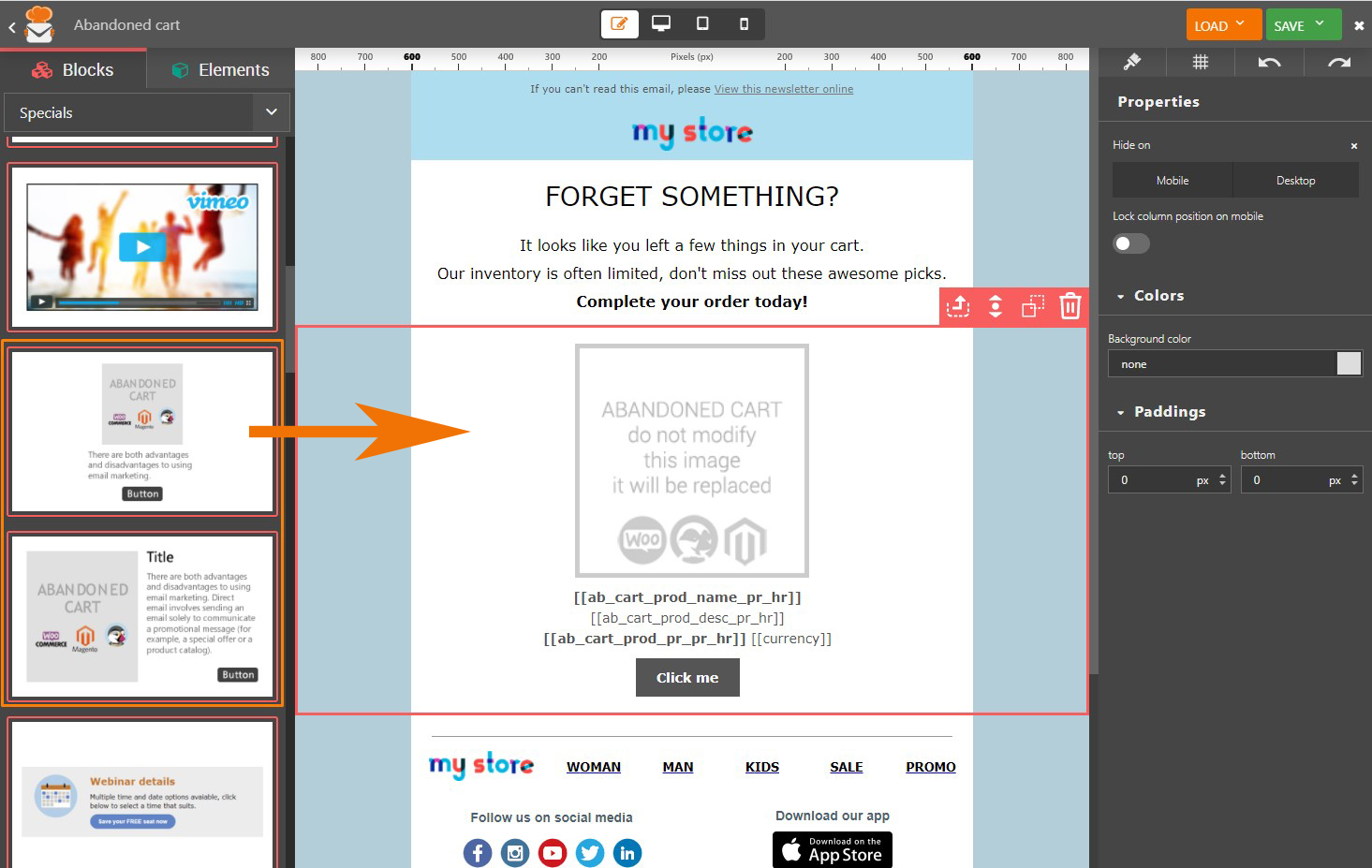 3. Create an autoresponder to automate the sending of your abandoned cart email.
Once you have finished creating the template, click "Save and create an autoresponder".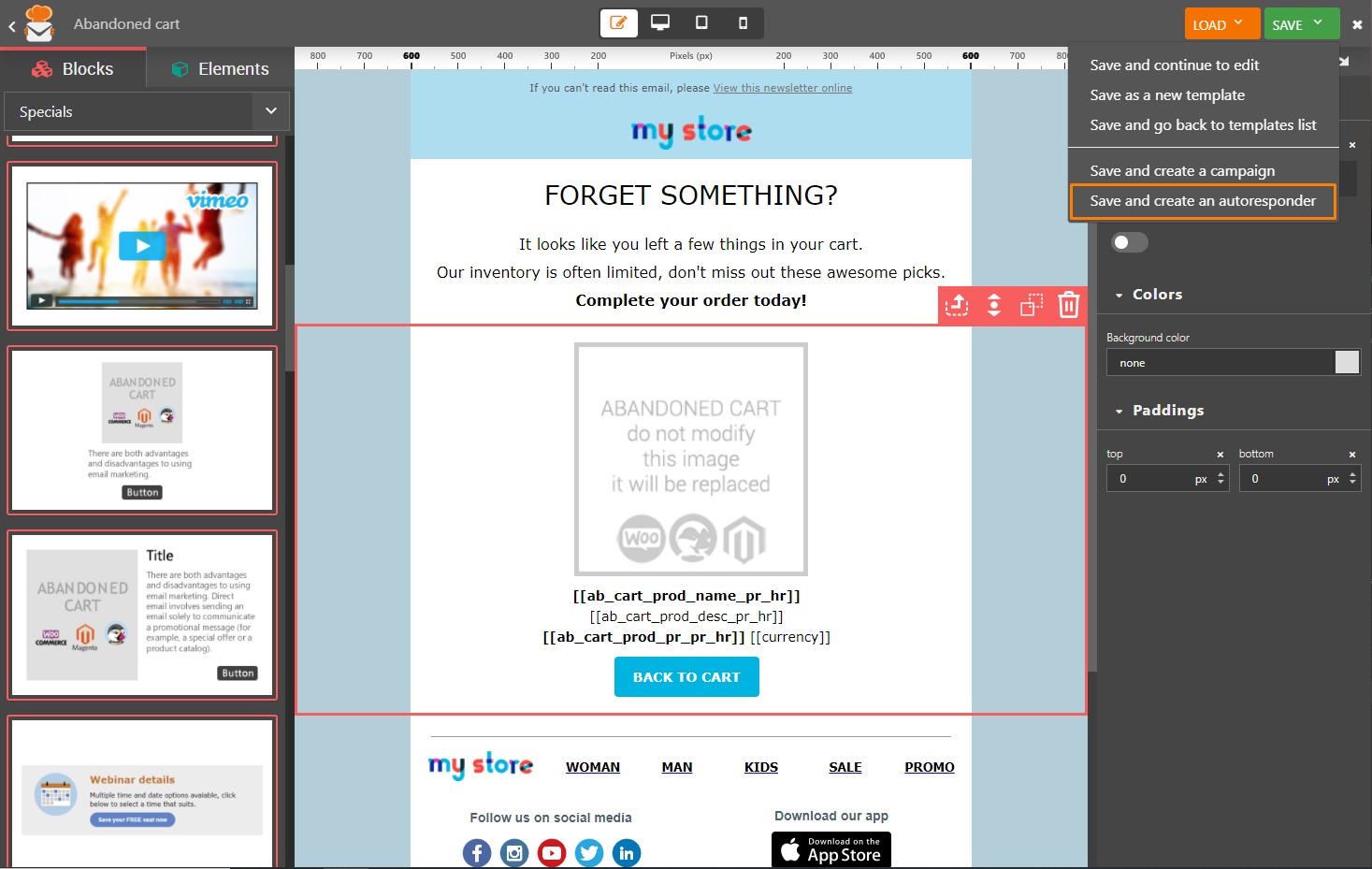 Click "NEXT". Select the type of event that will activate the autoresponder. To send an abandoned cart autoresponder, choose: "A contact enters a specific segment".

Select the segment that will receive the autoresponder. This will be a list segment that you previously created.

Set the time to send the autoresponder. You can set the autoresponder to go out hours or days after the contacts have joined the "Abandoned cart" list segment. Remember that a cart is usually only regarded as abandoned if it has held a product for 24 hours without a purchase.
If you set the time to "0 days" and "0 hours", the autoresponder will go out as soon as a user becomes part of the list segment.

Click "NEXT". Complete the form with the name of the autoresponder, the sender, and the subject. You can also add the preheader.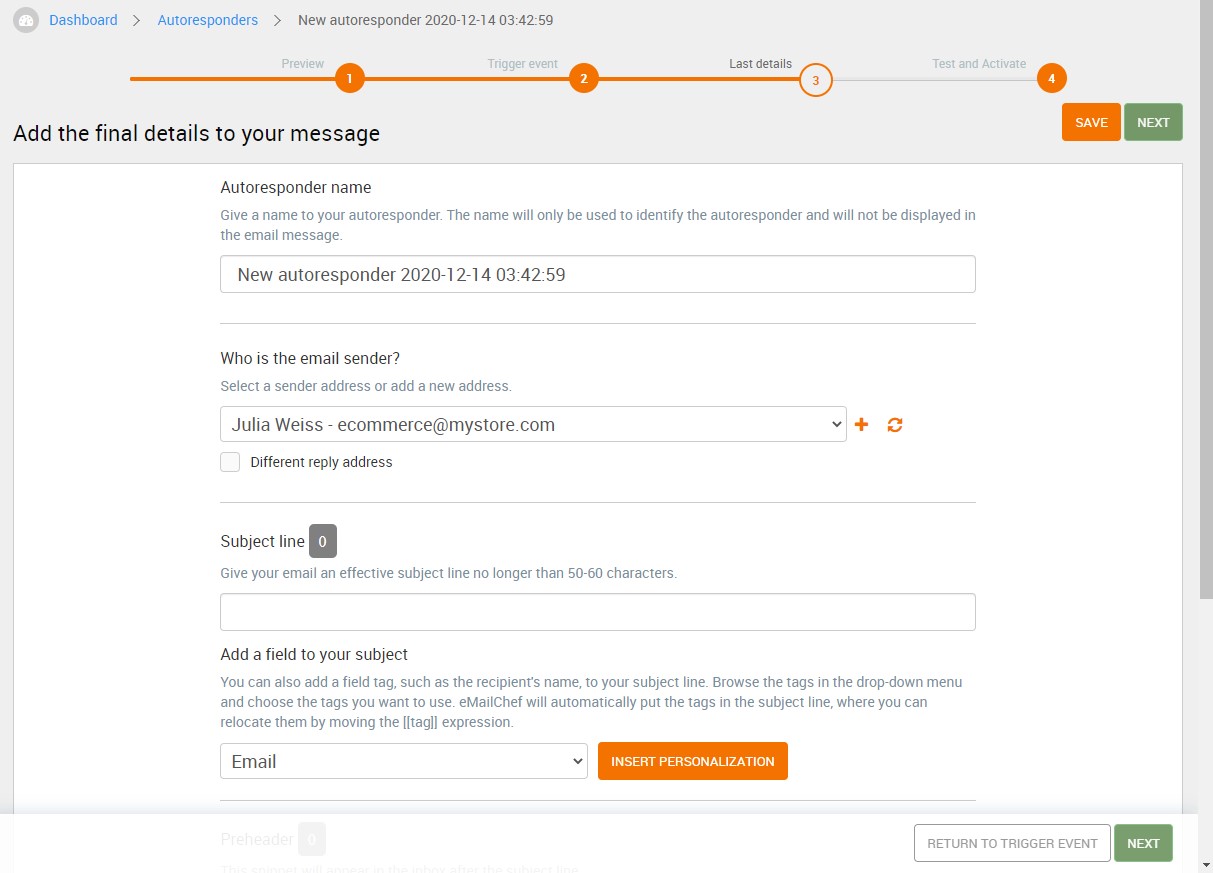 Click "NEXT", then click "ACTIVATE AUTORESPONDER".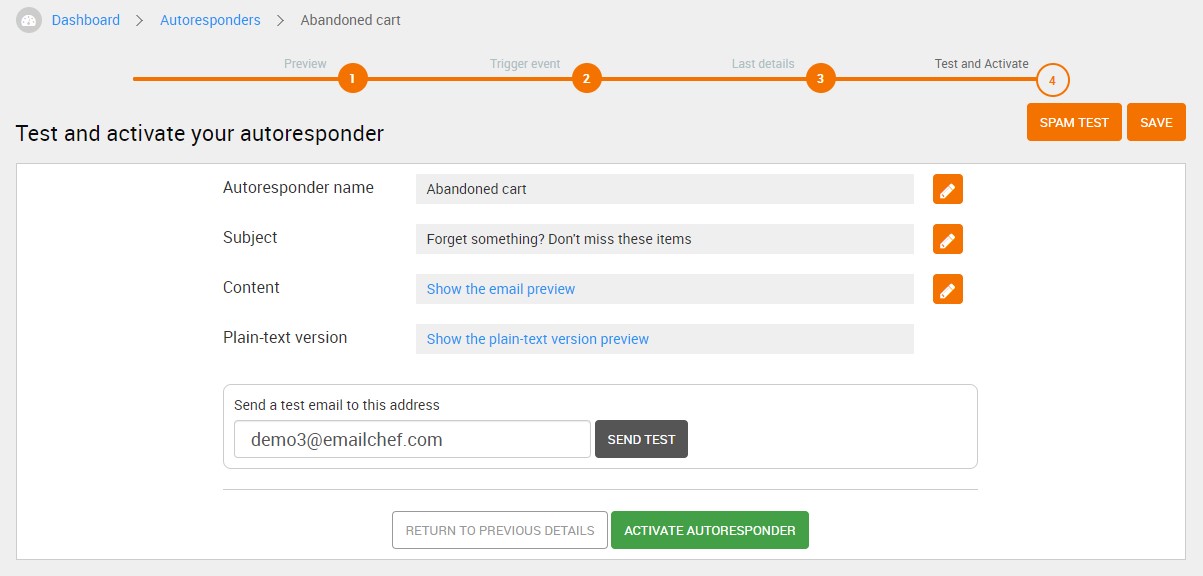 Your autoresponder has been activated. All contacts who join the abandoned cart list segment will receive your newsletter at the time you determined in the sending schedule.
To learn more about abandoned cart autoresponders, watch this video tutorial:
[EN] How to send an abandoned cart email