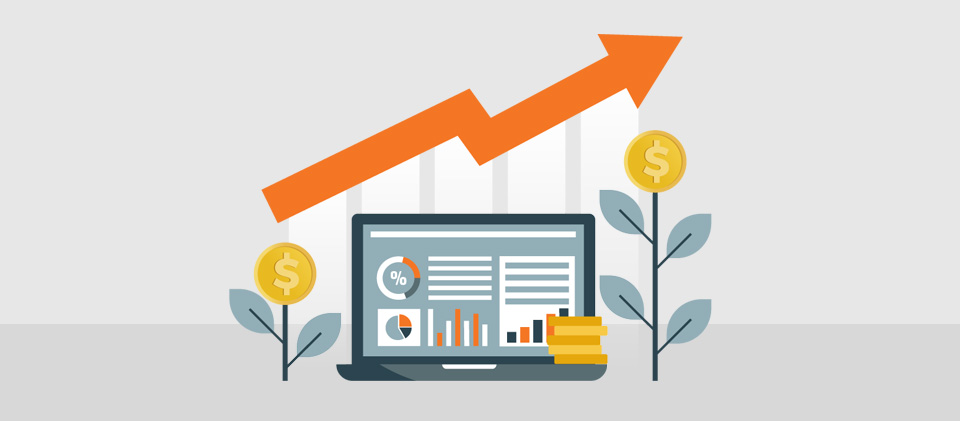 Although time and technology evolve, email marketing remains one of the most profitable digital marketing strategies, especially for sellers and e-commerce companies. According to data from McKinsey, email marketing is 40 times more effective at attracting new customers than Facebook and Twitter combined. The Econsultancy/Adestra 2019 Email Marketing Census confirmed the importance of email marketing, with 73% of marketers evaluating the channel as excellent or good, beating both SEO and paid search.
Email marketing isn't an alternative to other kinds of digital marketing, such as social media or Pay-Per-Click (PPC) marketing. In fact, because email is the most popular communication channel between customers and brands, email marketing makes other digital marketing tools even more effective.
With statistics that place email marketing at the top of marketing channels for ROI, it's vital to include email marketing in your marketing strategy. It's low cost, delivers a high return of investment, and makes tracking results easy.
But to make the most of this method, you need to know the right email marketing strategies that can really improve your sales. Discover how to get the most out of your email campaign by following our 18 Email Marketing Strategies for Sellers and E-Commerce Companies.
Table of contents
1. Give Your Visitors a Strong Reason to Subscribe
The value of a website is measured by numbers — and especially the numbers of subscribers. But collecting those subscribers isn't easy. People don't just give their email addresses to anyone. They need a good reason to accept content in their inboxes.
So, what can you do? The best choice is to offer something in return. Your offer must be just juicy enough to persuade people to fill in the form and give you their data. Here are some examples of what you can offer your potential subscribers:
A free quiz with the result sent to the user by email.
A discount reward for signing up.
A product related to your business, such as a trial lesson for a course, a fashion tip, or an ebook.
Keeping attention on the way you collect contacts for your list is one of the most profitable email marketing strategies for sellers. Don't neglect it!
2. Create Responsive Emails that Perform Well on Mobile Devices
Creating emails that are optimised for mobile devices is now fundamental for a successful email marketing campaign. Some 61.9% of email opens now occur on mobile phones and tables. If an email isn't responsive enough to be displayed on all kinds of screens, there's a greater possibility that it will be deleted.
3. Re-Engage Inactive Subscribers
Re-engaging inactive clients or subscribers is easier than looking for new ones. All email lists have inactive subscribers who can be both a resource and a problem for your deliverability. Once you've decided how to determine when a subscriber has become inactive (generally after 3-6 months without engagement), you should try to recover anyone who hasn't interacted with your content during that period. A number of strategies can re-engage dormant customers, such as the offer of a discount or a gift to encourage new orders. See the template below for inspiration.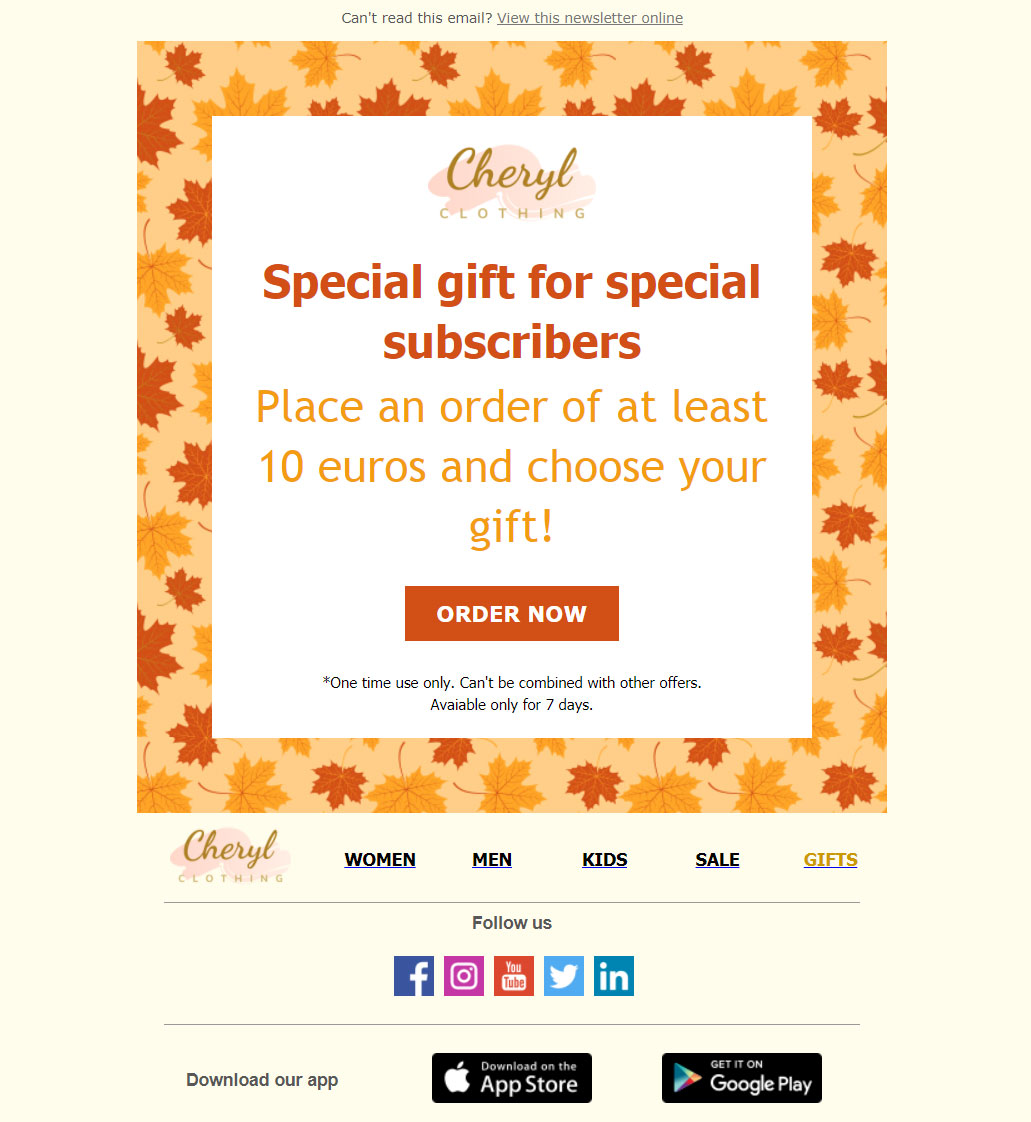 4. Work Your Subject Lines
The subject line is the first thing subscribers see when they receive your email. It will affect the open rate. A well-structured subject line can incentivize users to open and read your message. On the contrary, a bad subject line can cause users to delete the email or report it as spam. Pay attention to your subject line, and employ these best practices:
Try using emojis. Some studies have found some emojis to be effective… but not all. Use them carefully.
Less is more: keep your subject line shorter than 60 characters.
If misused, words and phrases like "free", "percent off" and "help" may negatively affect your open rate.
Be original!
5. Build a Dedicated Landing Page for Each Email Marketing Campaign
When you send a newsletter that encourages a purchase or offers some special content, you direct your subscribers to a web page. That page might be your homepage or a dedicated landing page.
To produce a real return on your customer conversion, you should create a specific landing page for each email marketing campaign you create. And you should pay the same attention to the content and layout of that landing page as you pay to the design of your email. Because a dedicated landing page is more targeted than a generic web page or homepage, it's much more effective. The perfect landing page must honor the promises made in the email you sent, and should contain the following elements:
Effective headlines and subheadlines.
A strong call-to-action that pushes people to act.
A clear template.
Good images and videos.
A section for reviews.
6. Give Your Email's Content the Right Template
When you're planning your direct email marketing, or DEM, strategy, don't forget the importance of the right template. The placement of items in an email is as important as its content.
Don't confuse your readers. Create linear and eye-catching templates that keep attention on the most important elements.
If you are not accustomed to HTML, use a professional service with a Drag & Drop Editor that's very easy to use, and that has a good gallery of ready-made templates optimised for all devices.
Remember that your emails will need short paragraphs, with plenty of free space, subheadings, and bullet lists. That design will help you to focus users' limited attention on the most important parts of your email, and increase the possibility of conversions.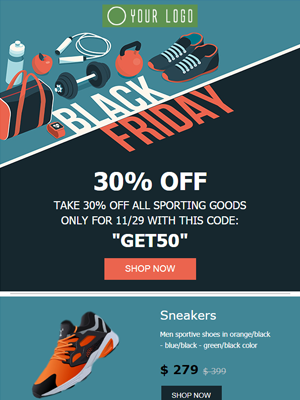 7. Use GIFs or Animated Content
Surprise your subscribers with animated gifs and fun content, especially on holidays! Take advantage of Christmas, New Year, Easter, and birthday emails to engage customers and deliver special offers.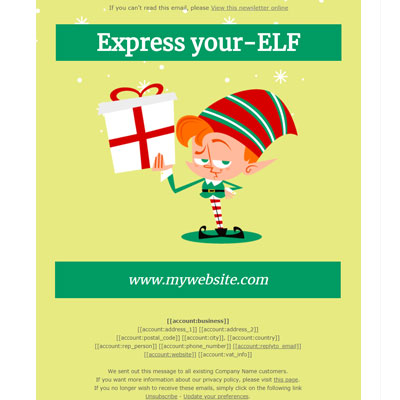 8. Send Exclusive Content
Use exclusivity to generate engagement. Create exclusive content for your subscribers or offer special products to your subscriber list. Exclusivity deepens the connection between brand and customers, and makes them feel special. Here are some ideas:
Giveaways and promo codes.
Tutorials and DIYs.
Special communications.
Insider news about your brand
9. A/B Test to Find the Most Effective Messaging
The A/B test is the best way to check the performance of your email. Design two or more versions of your newsletter and send them to different segments of your list. Compare the result with a professional DEM tool such as eMailChef, and you'll be able to see which version performs best. Once you've identified the CTA that attracts the most clicks, and discovered the best place to put it, test the rest of the email elements, such as:
Subject line
Layout
Images
Offers
Buttons
Headline
Text
Don't test all the elements together. Check each item individually to see how each element affects your results. And keep the objective of each element in mind when you start the A/B test: test the subject lines for open rate, the layout for clickthrough rate, and so on. You'll soon gain a better idea of what your customers want to read — and what makes them buy.
10. Exploit Social Proof: Collect Reviews and Be Recognised as a Secure Seller
Once you've collected a large number of contacts for your newsletter list, use them as social proof to collect others.
Invite users to join a big community, and use the email channel to ask customers to write reviews. The more reviews you get, the more you will be recognized, and the more the public will see your brand as safe and reliable.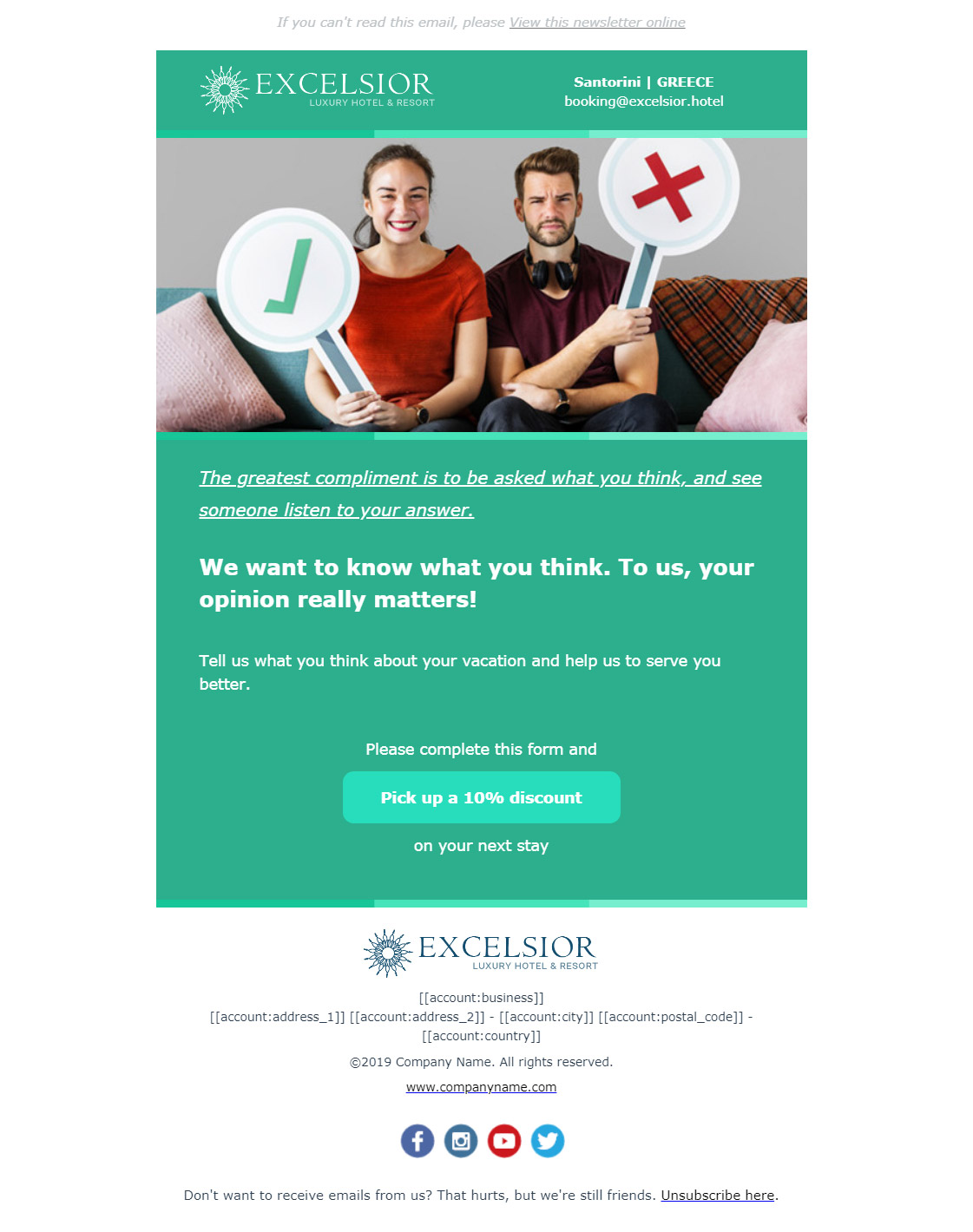 11. Leave Your Readers in Suspense
How you end your messages can stimulate the curiosity of your subscribers and make them look forward to your next emails.
For example, if you sell online courses, you can engage users with weekly tips that promise more with each message. Use phrases like "We'll teach you other techniques next week" or "We'll send you another lesson next Monday" and your readers will look forward to their free advice.
You can do the same even if you sell clothing or food by periodically sending fashion tips or recipes.
End your emails with a cliffhanger and you'll leave your readers with bated breath. See the example below: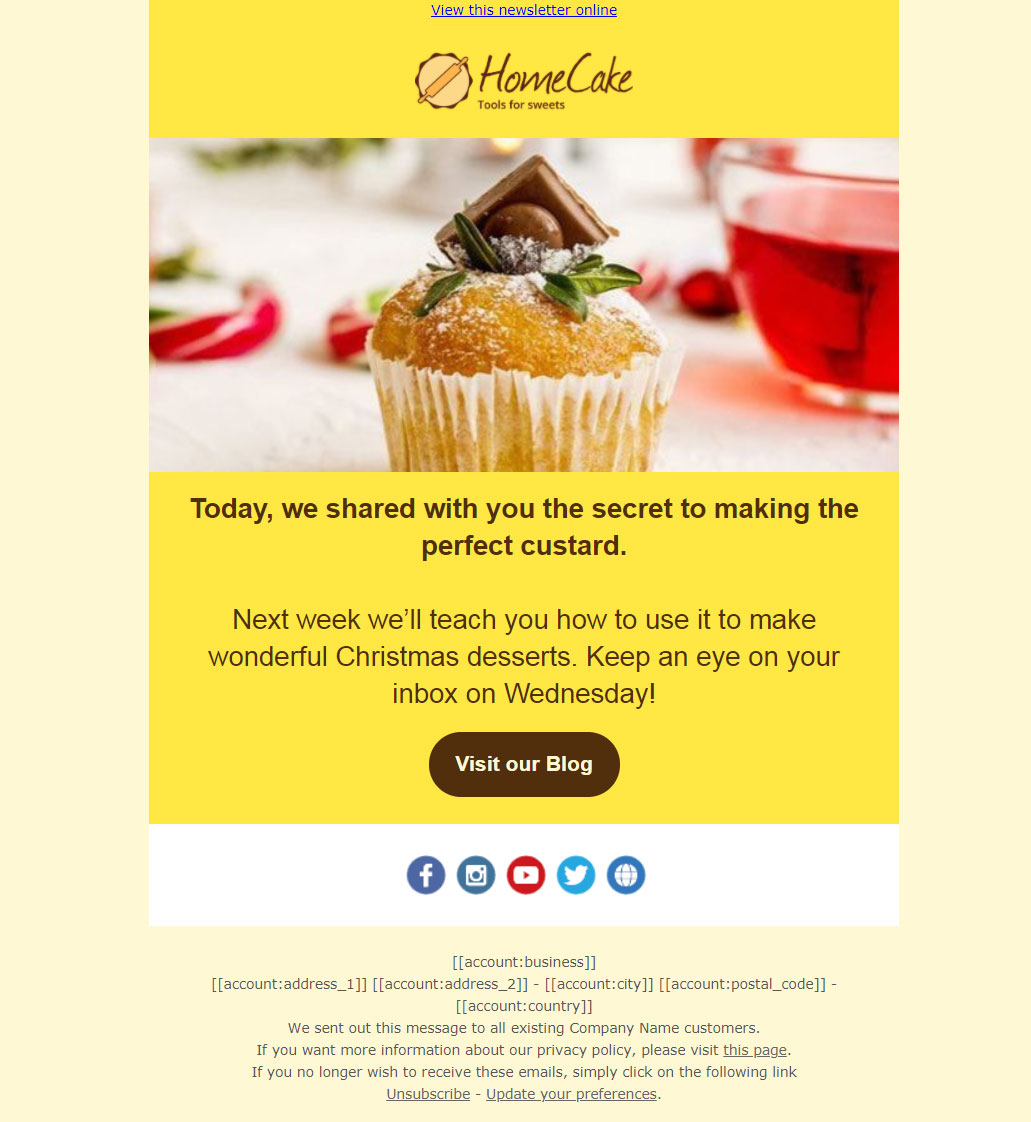 12. Create Appealing Welcome Emails
Once a new user has subscribed, it is best practice to send a welcome email or even a series of welcome emails.
The perfect welcome is inviting, appealing, and capable of making users feel part of a privileged group. It should also tell the user what to expect from your next messages. Pay attention to graphics, texts, and images. Be original and, above all, study the right approach. If you fail to empathize immediately with your subscribers, you risk your emails being ignored in the future.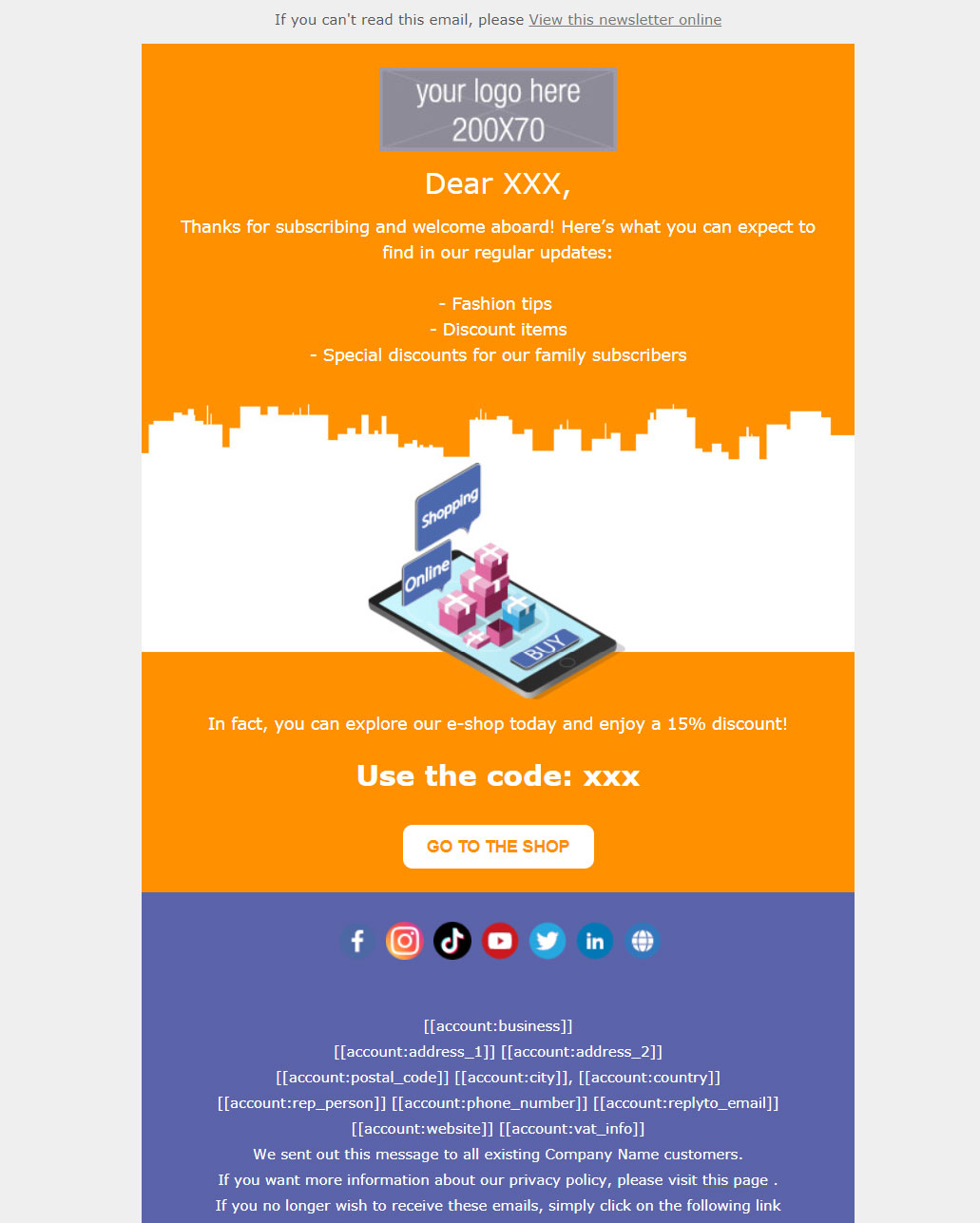 13. Use CTAs
It might be obvious, but you can't overemphasize it: CTAs are essential for the success of your emails.The call-to-action button is the key to getting readers to perform the action you want them to take in your email.
Use A/B tests to discover the best position and phrase for your CTA. Use relief graphics and noticeable colors. There are no rules for CTAs. Play with your creativity and track the results!
14. Use the word YOU
The best way to make a subscriber feel part of your brand is to talk to them directly. Use the word "you." Even better, once you have gained their permission to use their personal data, use their name.
According to research, seeing or hearing our own name causes special neurons to light up in our brains. Our name contributes to our identity so it is not surprising that an email that uses the names of subscribers attracts their attention.
But be cautious here. Research in this area has been contradictory and seeing your name in a context such as an email inbox could generate suspicion. If you're not certain, use a generic but effective "You"!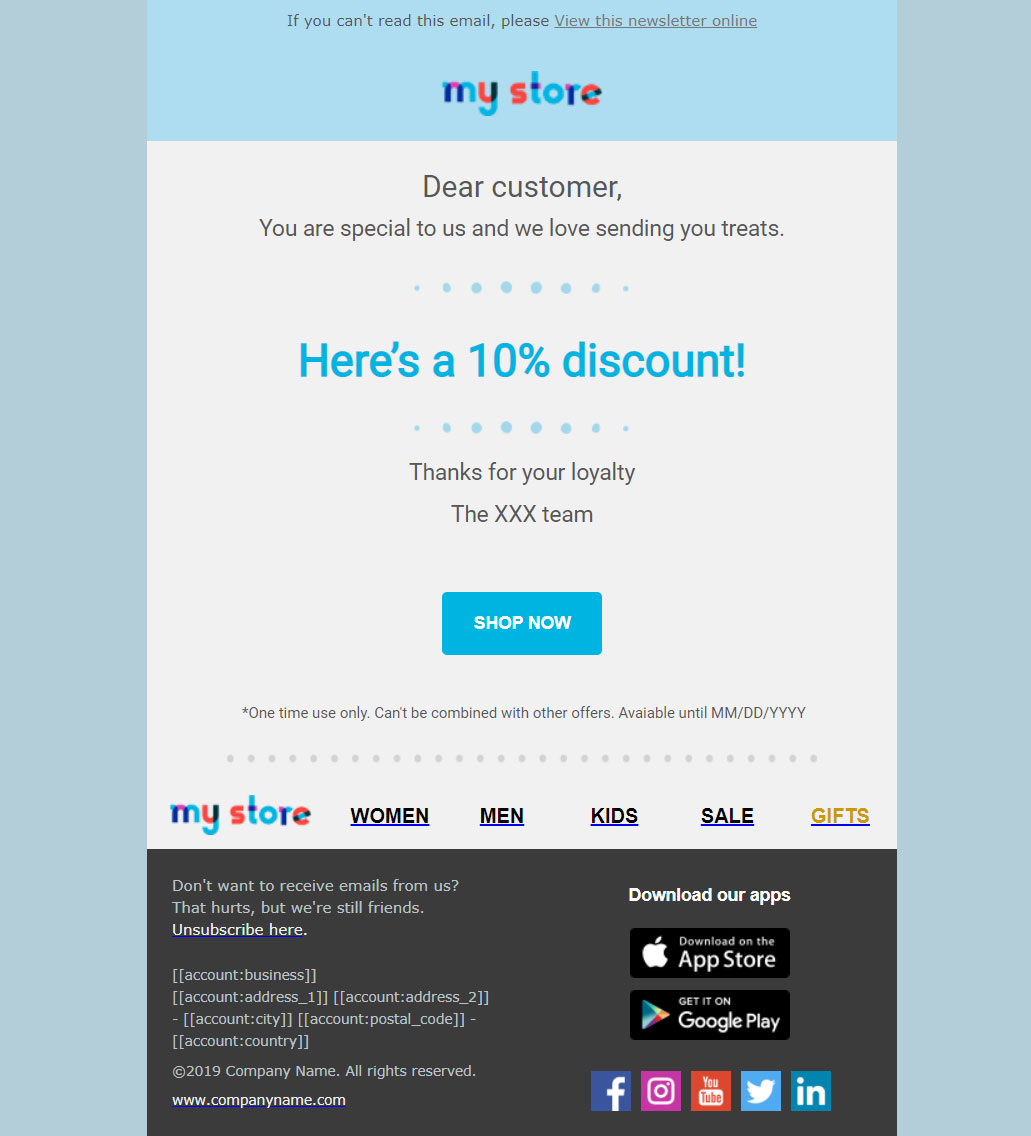 15. Integrate Email and Social Media
People spend 142 minutes a day on social media so email marketing and social media marketing must work together. Use testimonials and track the influencers that operate in your field. Link your social pages in your emails and always keep them updated. Suggest that your subscribers interact with your social pages by, for example, launching a hashtag and asking them to use it in their Instagram photos!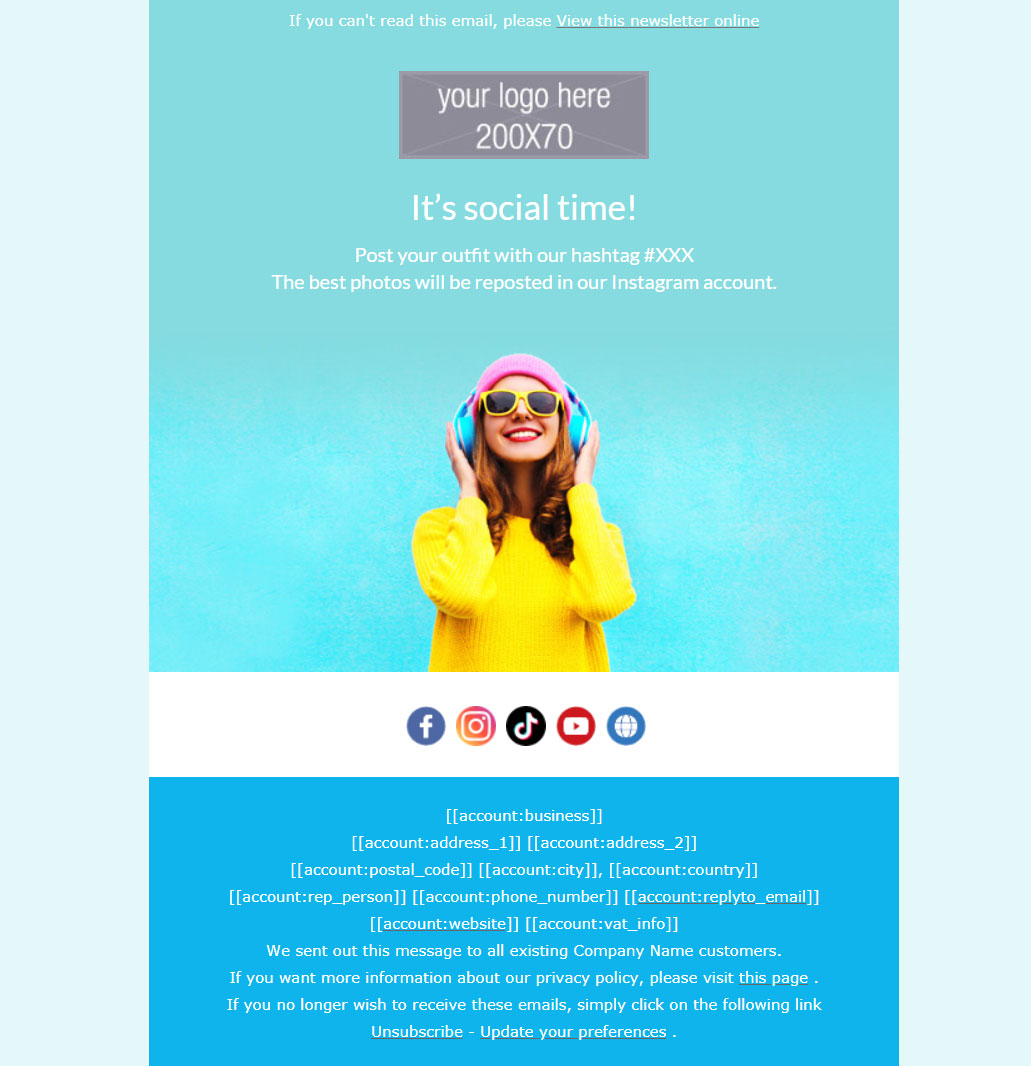 16. Use Abandoned Cart Emails
Abandoned carts are potential purchases. Draw your customers' attention to what they stand to lose by sending them a reminder.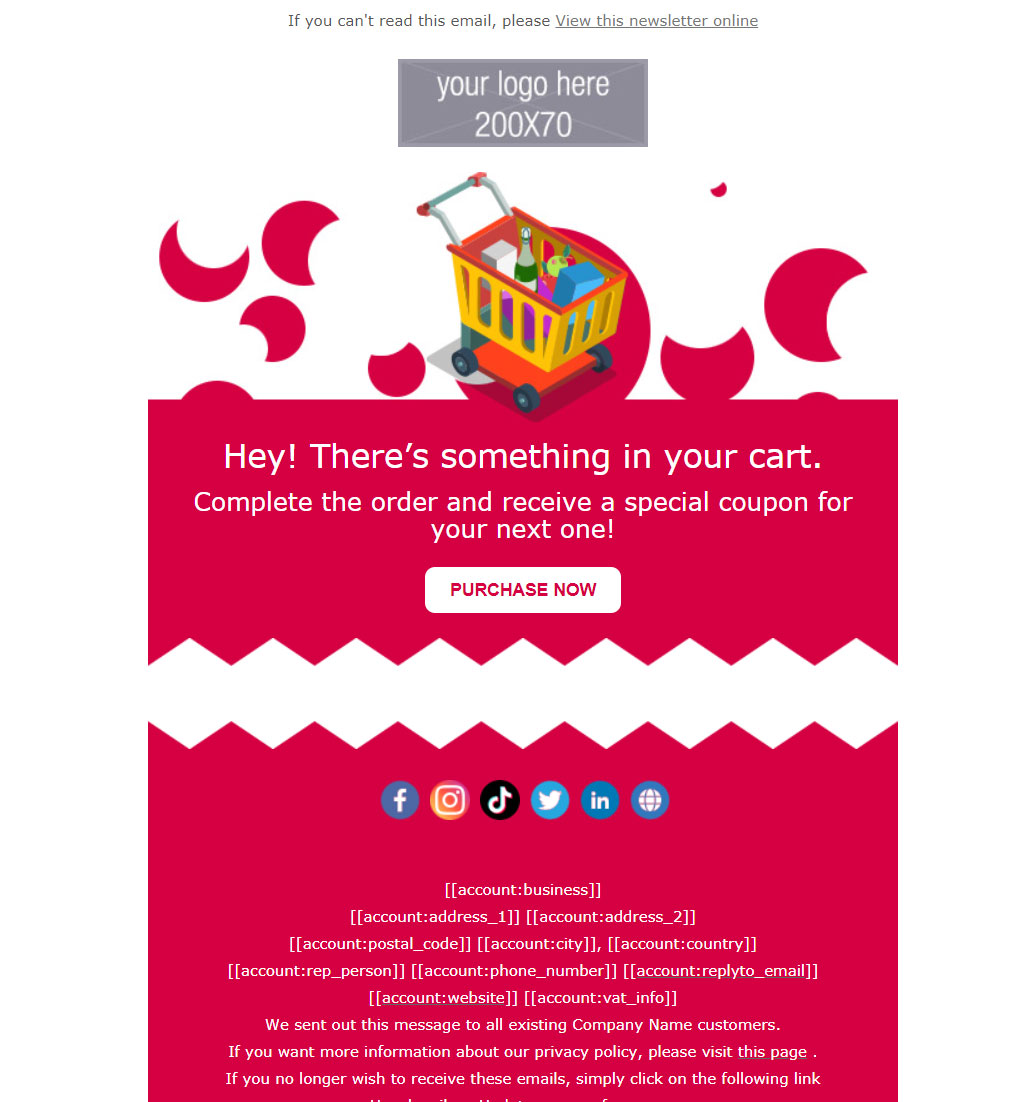 17. Stay Out of the Spam Folder
Your campaign won't have results if your emails don't reach their destinations. Unfortunately, it's not always easy to reach your subscribers's inboxes. You have to put your trust in reliable platforms that guarantee you maximum deliverability. Rely on professional email marketing services that let you:
Check your results using an email tracking system.
Keep your emails out of the spam folder.
18. Don't Give Up Your Email Marketing Strategies
If you follow all these tips, you should be able to build successful email campaigns. Remember, it takes patience to get results! Don't give up if you don't see immediate results. If there are any problems, improve them by using A/B tests and by choosing a professional email platform such as eMailChef.
Put our 18 seller strategies into practice and become an email marketing wizard!