Email Marketing for the Hotel and Tourism Industry
6 Winning Strategies
Email marketing is a versatile tool that lets anyone acquire new customers and keep their current ones. In the tourism industry it's important that email newsletters communicate punctuality and reliability, but they should also stimulate dreams and desires. Use your emails to make your hotel appear charming and irresistible.

Here, you can find six winning email marketing strategies for hotels, with examples of ready-to-use hospitality newsletters.
1. Give your subscribers a warm welcome
To engage your customers, send a welcome email to your new subscribers.
Statistics show that subscribers who receive welcome emails enjoy 33% more engagement with the brand.

Introduce yourself. Share your values. Show your hotel's best services. Inform potential customers of possible discounts and events, and above all, make sure that your welcome emails arrive immediately in new members' inboxes. It's better to make hay while the sun shines so take advantage of your users' interest as soon as they register.

Thank new subscribers for subscribing, and include:
Or you can design a series of welcome emails, and divide them by themes and reception times. For example:
Remember that a welcome gift is always appreciated. Most users who sign up for your newsletter expect recognition.
HOTEL NEWSLETTER EXAMPLE
Welcome gift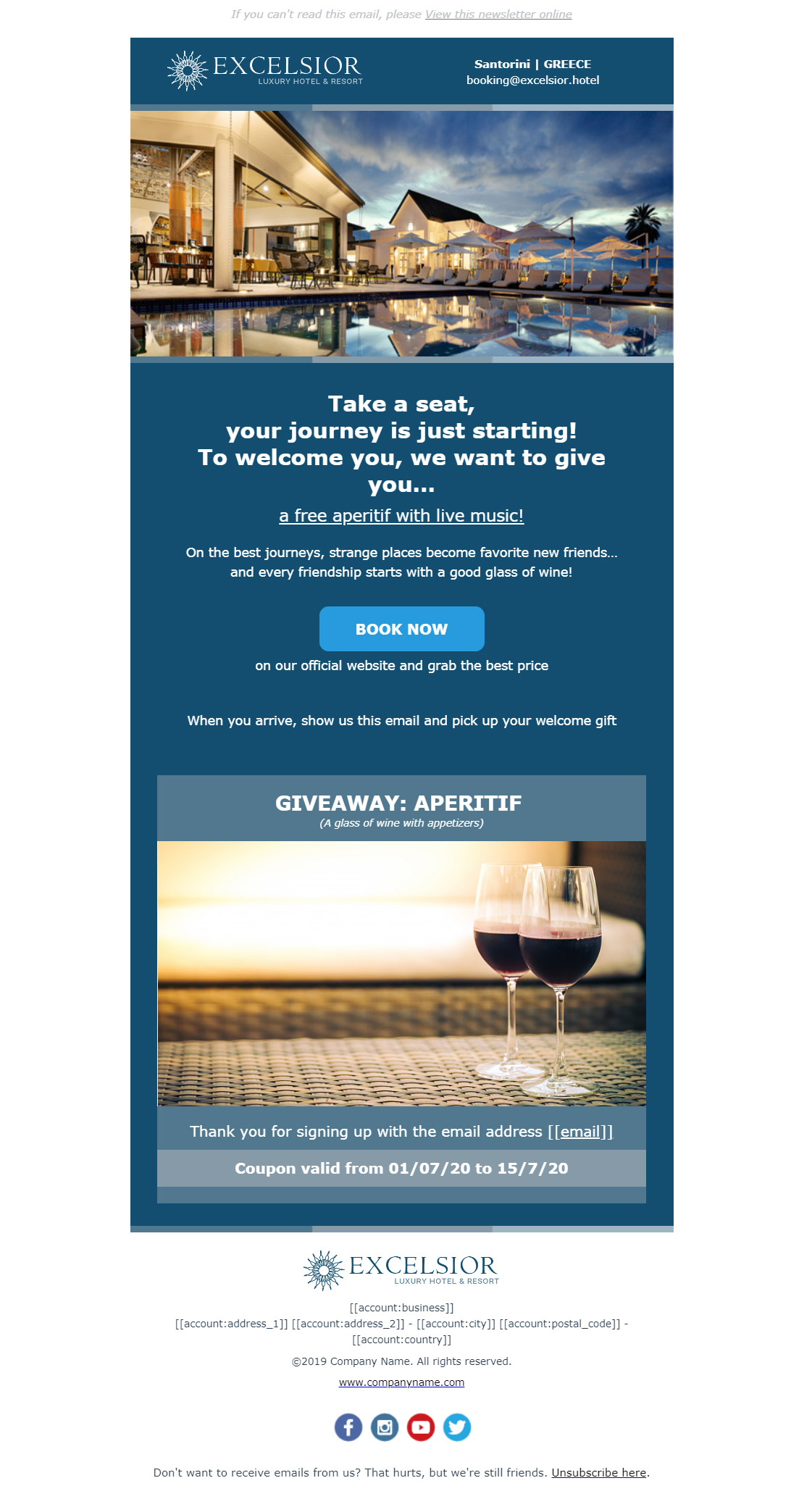 You can find this template inside Emailchef's "Travel" Section
2. All occasions are worth celebrating.
Invite your users to participate
Take the opportunity to celebrate with your subscribers. Whether it's Christmas, New Year, Easter or even Mother's or Father's Day, make sure that your potential and current customers know your values. Reward them with special offers and packages.
HOTEL NEWSLETTER EXAMPLE
Christmas gifts
You can find this template inside Emailchef's "Travel" Section
3. Communicate with your guests
before and after their stay
In the tourism industry, and especially in the hotel business, communicating with customers is essential. Guests want to feel that they're in good hands and have confidence in your brand. There are four kinds of emails that guests now expect to receive from hotels.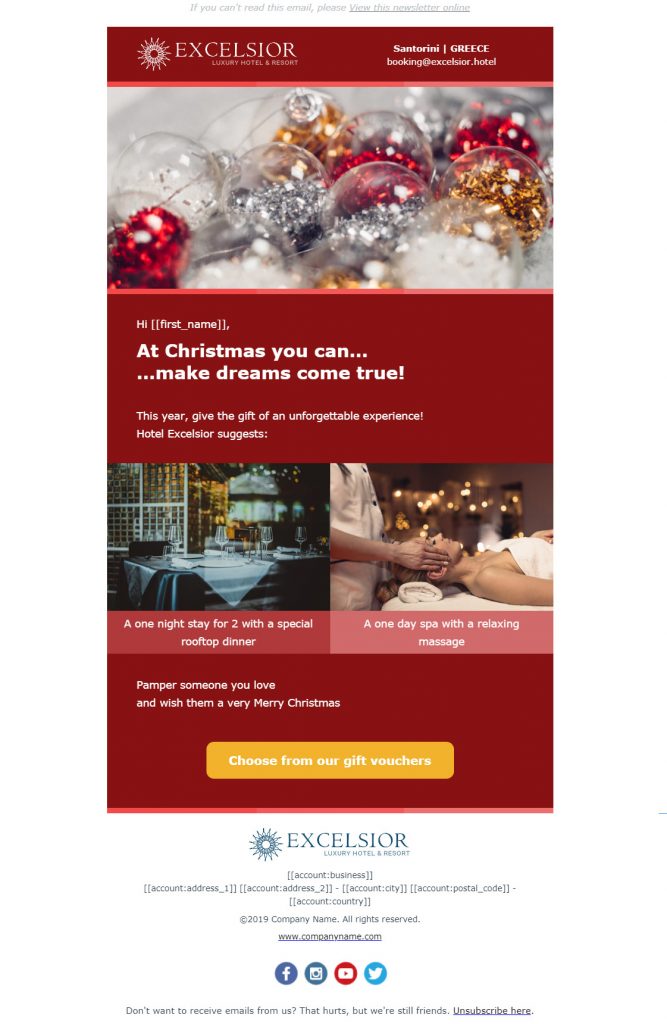 HOTEL NEWSLETTER EXAMPLE
Ask for feedback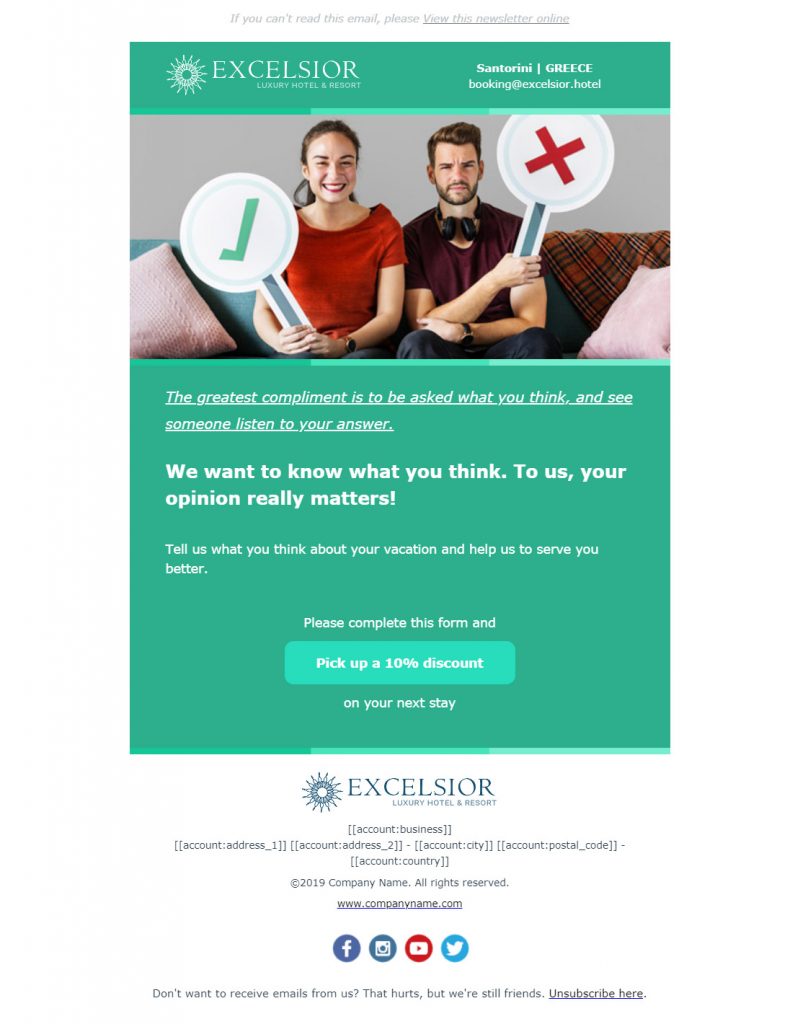 You can find this template inside Emailchef's "Travel" Section
4. Create "location newsletters" and
make good use of visual content
This is the time to show who you are. Use your newsletter as a map. Tell your customers where your hotel is located and highlight all the nearby attractions such as restaurants, shopping streets, sites, and so on. Visual content here is fundamental. Choose impactful images to add value to your city and your hotel.
HOTEL NEWSLETTER EXAMPLE
Show highlights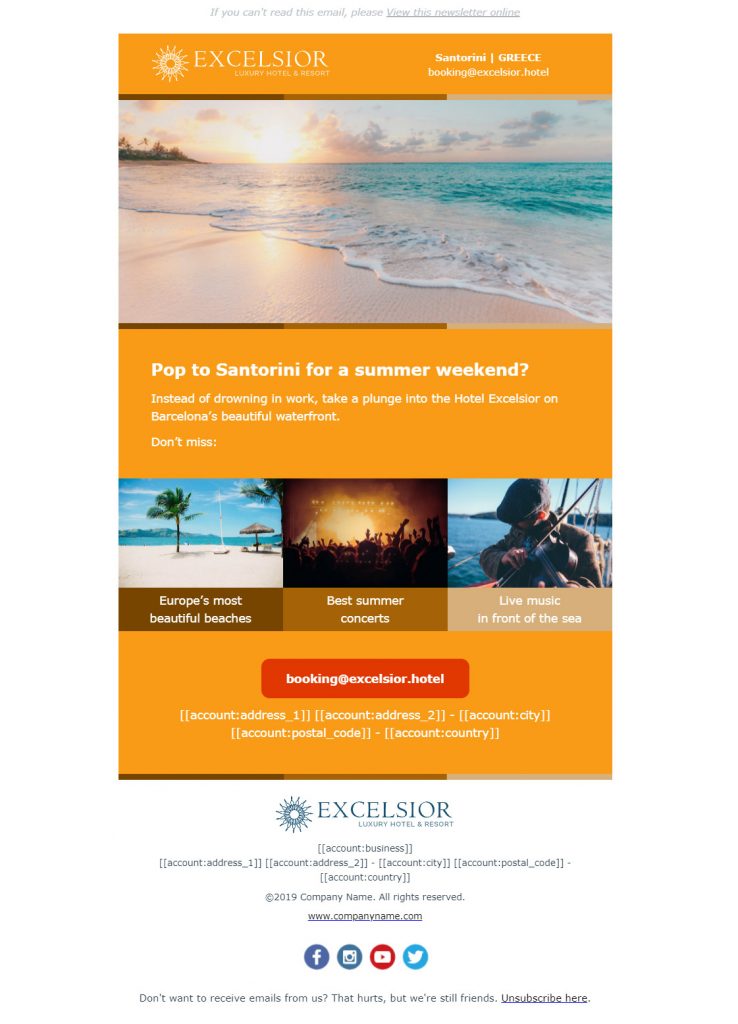 You can find this template inside Emailchef's "Travel" Section
5. Send VIP offers to your
most loyal customers
Do you know that it can cost five times more to attract a new customer than keep a current one?
Spoil your loyal customers and create a "VIP newsletter" for them. Invite them to return to your hotel for their next vacation.
HOTEL NEWSLETTER EXAMPLE
Reward your customers' loyalty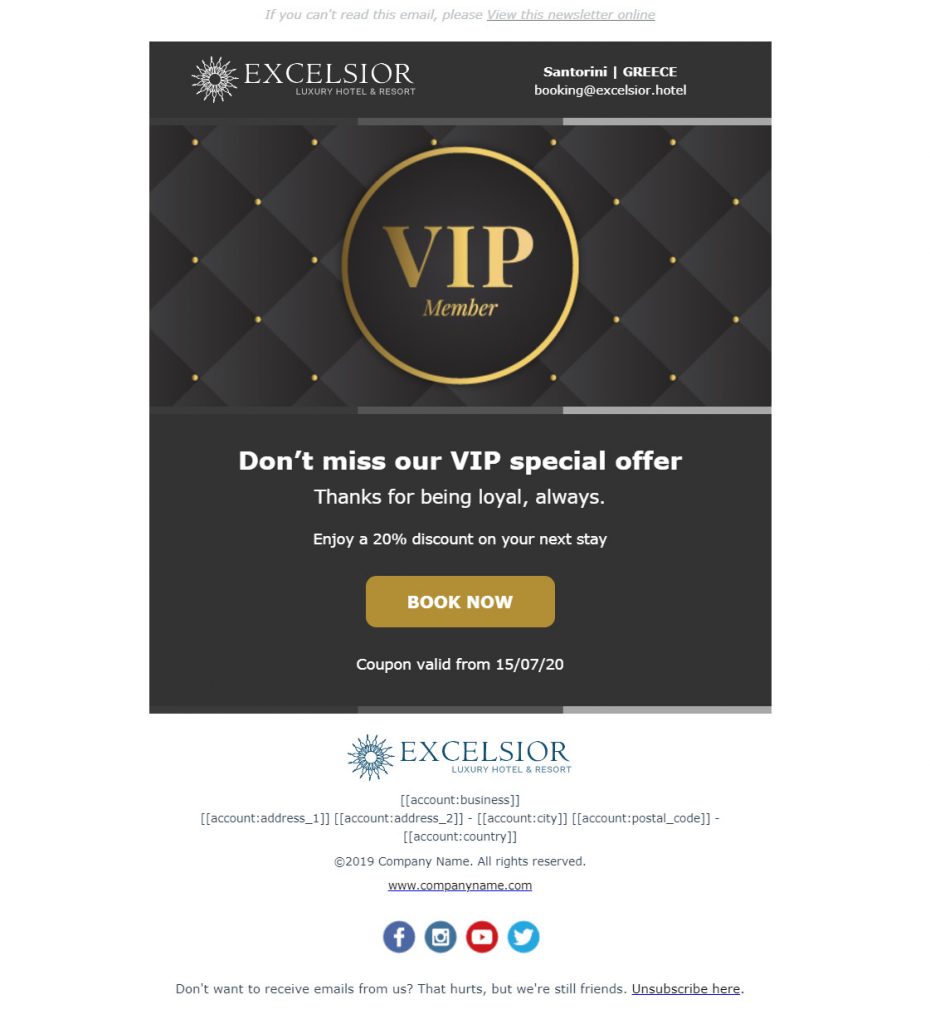 You can find this template inside Emailchef's "Travel" Section
6. Combine email marketing for hotels
with social media marketing
Do you know how much time your customers spend using social media? About 142 minutes a day! Your hotel email marketing strategy will be even more effective if you combine it with your social media marketing. Start partnerships with influencers and use segmented lists based on their preferences to send your customers newsletters that show their Instagram stars' vacations!

Or focus on storytelling. Tell your potential guests why your hotel is the most Instagrammable or why it would be perfect for a mind-blowing TikTok!
HOTEL NEWSLETTER EXAMPLE
Encourage your guests to use social networks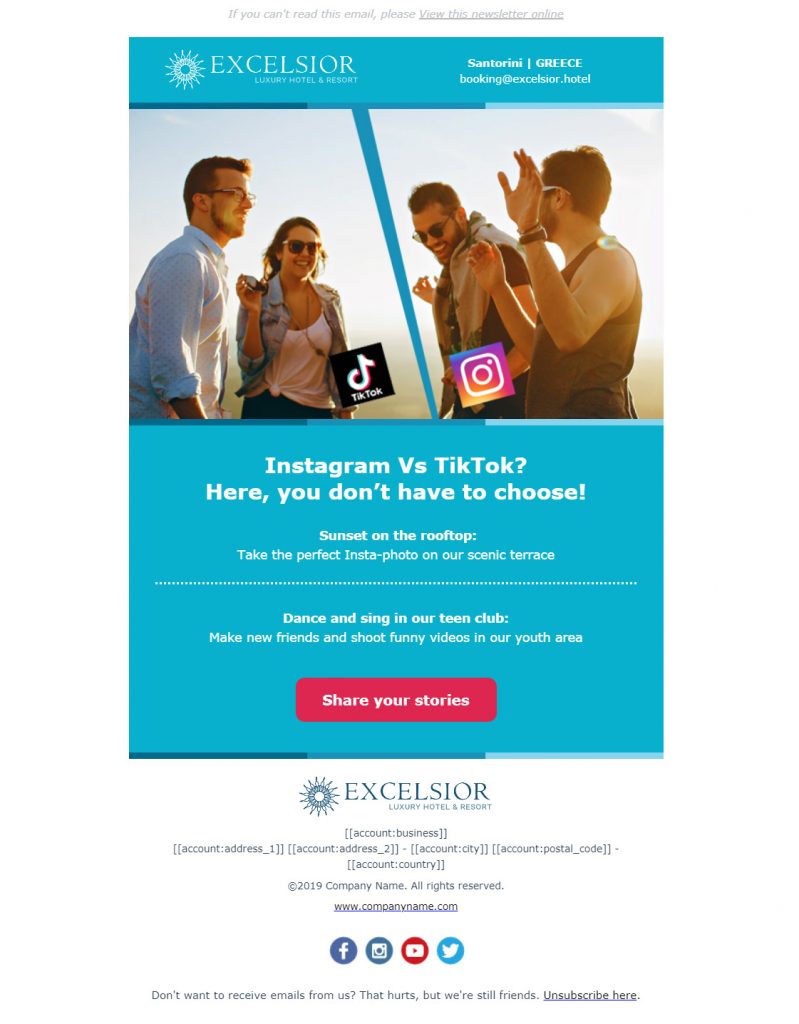 You can find this template inside Emailchef's "Travel" Section