It's been a long time since the Internet changed the holiday season. Instead of walking from store to store in freezing rain in the busiest shopping days of the year, we can now sit at home and buy all our gifts with our feet up and hot drink in hand. Distributors and brands use their Christmas emails to send out their catalogs and make their special offers.
Your business must take part. Christmas might be fun but for business owners it's a time to be serious. We're here to help. We have updated our  library and added a rich selection of Christmas email templates, ready for use and available with all Emailchef plans.
Christmas Email Newsletter Templates
Whether you run a bricks-and-mortar shop or an online store, visit our library and find the Christmas newsletter template that's right for you. Your content will make it unique, a perfect representation of what you want to communicate through your brand.
Here is a gallery of Christmas email templates, for all tastes and needs. You can browse them all after logging into your Emailchef account.
PS. If you are not yet our client, you can still use the templates for free with our Starter plan.
Of course it is not just stores, online and offline, that can enhance the value of Christmas emails. Travel and leisure businesses, sports accessories, shipping services, packaging distributors, and everyone else needs to be contacting their clients at this time of year.
For many brands, digital has turned into the most important showcase even when purchases are made offline. That's because, email is the only marketing tool that establishes a one-to-one relationship with a potential customer. Only professional mailing services have the technology to target recipients based on specific needs and interests.
Now that you have your Christmas newsletter template on screen, let's move on to some tips for creating an effective marketing campaign.
1 – Focus on Retargeting
If you have an ecommerce site, the holiday season is characterized by a peak of visits—and abandoned shopping carts. Focus on undecided users with a retargeting campaign!
A user who reaches the checkout phase has left his contact information. Send those users a personalized email inviting them to complete the purchase. You can motivate them even further with a special discount, a free delivery, or even a complimentary gift.
Sending those emails is much easier when your ecommerce business is integrated with your email marketing platform.
Luckily, Emailchef does just that
.
2 – Example Subject Lines for Christmas Email Templates
You can limit your email's holiday feel to a few images with a winter and snow theme; it works! As for all special occasions, however, a holiday season is a good time to experiment with variations in your style and tone of voice.
It doesn't matter whether your relationship with the recipient is B2B or B2C, during the holidays anyone can be cheerful, positive, and even a little bit childish. Consider tossing in one or two themed emojis ? ? ? ? ❄️ ⛄
Here's a list of examples for effective subject lines. Always test and pay attention to the results.
3 – Design an Advent Calendar
The strategy draws heavily from Black Friday, where promotions vary continuously during the period that precedes (and immediately follows) the date.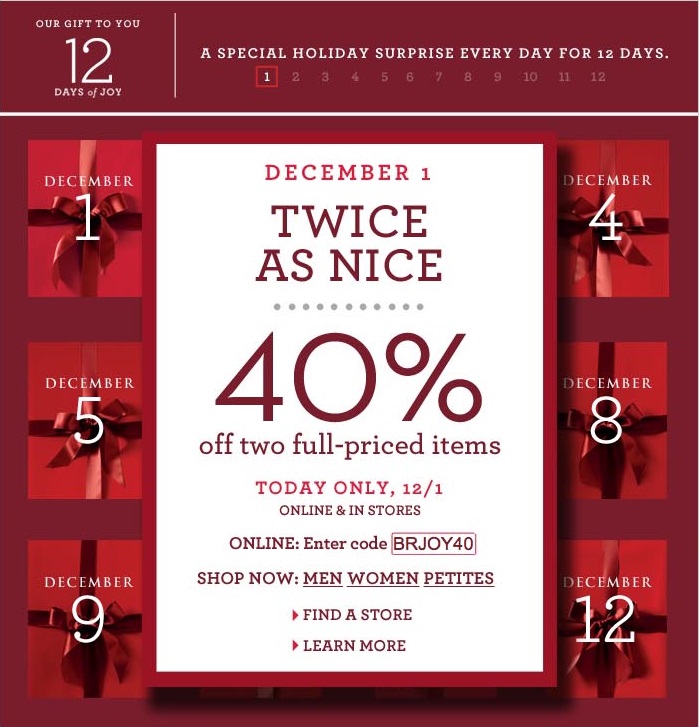 You don't need to think of special content for each day of December. Five emails sent at regular intervals are sufficient. Each will highlight a special offer limited to a short period after which a new promotion will begin.
In the "advent calendar" the design is very important for triggering the mental association with the old paper calendar that parents give to small children. It's a good opportunity to be creative and stand out from the crowd.
4 – Insert a Countdown Timer
The offers you make in this period will end once the holiday season is over—or earlier if you run out of stock.

A countdown timer instils a great sense of urgency and drives users to take action now.
5 – Do You Want to Send Greetings With the Promotion?
Sending Christmas cards, whether paper or digital, is not always the most effective branding action. Many recipients, especially companies and public entities, receive a large number of greetings at Christmas. Standing out requires a great deal of customization.
You can get around this. Design your newsletter so that it divides visually into two sections: one above; and one below. In the upper section, add the text and graphics with traditional greetings. Take care not to personalize too much here.
In the lower half of the newsletter, add your promotional message, and "tie" the two parts with phrases like: "Come and choose your gift" or "Find out what's under your Christmas tree." As usual, be creative!
6 – Insist on the Usual Key Sales Points
Why should people buy from your store during the holidays (or any time)? Your subscribers might tell you that:
You have a large catalog of interesting items;
They save time and effort;
They can make their purchases easily;
The prices are lower than elsewhere;
The service is friendly and reliable.
These needs are common to everyone, all the time, so stress them in your holiday emails too. And those messages should be clear regardless of the device the subscriber uses to view the email so watch out for optimization.

7 – Christmas Doesn't End on December 25th
We hope that your Christmas email marketing campaign goes like a rocket. However your results, take advantage of the break to analyze the results and identify strengths and weaknesses.
You don't have to stop your promotions instantly on December 25th. People will still want to spend money after the holiday. Continue your promotions with another newsletter.
You can also thank your customers and send them best wishes for a happy new year. And if you already have something in store for the winter sales season, why not give them a little preview? ?