How often should my business send marketing emails?
By now it should be clear that email marketing is a fundamental tool to promote your brand. But how many newsletter should you publish and how frequently?
If you send only a few emails, you'll risk losing opportunities to sell. If you send too many, your users may become annoyed, generating spam reports, damaging your contact list and causing delivery issues.
This post will help you to determine the ideal frequency for your newsletters.
How many newsletters should you send per month?
In general, you should send a maximum of 7-8 emails per month, or 1-2 per week. If you're wondering about the best day and time to send a newsletter, we wrote a post about that too.
According to our data and research though, there are no irrefutable truths. Everything depends on the message.
The real question is: how much content do you have and what do you want to communicate?
Privilege Quality Over Quantity
According to the DMA Consumer Email Tracker 2019, over half the users that unsubscribe from a newsletter do so because they receive too many messages from the same brand. Only 43% unsubscribe because the content is irrelevant.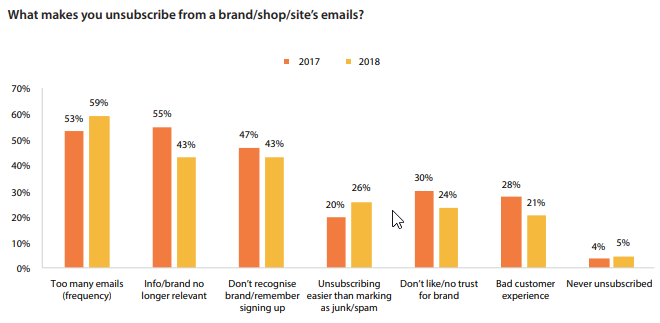 That's why planning is so important.
It's fine to send alerts, occasional emails related to an extemporaneous event such as a Christmas message or that communicate the closure of the office during the holidays. But for your other messages, draw up an editorial calendar and start sending one email per month or, even better, one email every two weeks. As long as the content is relevant, that frequency is fine for both B2B and B2C brands.
Give Your Audience What They Want
You should do your best to give your audience with what they really want to receive. For example, most people subscribe to brand emails to receive gifts or promotions. So why not include some in your campaign?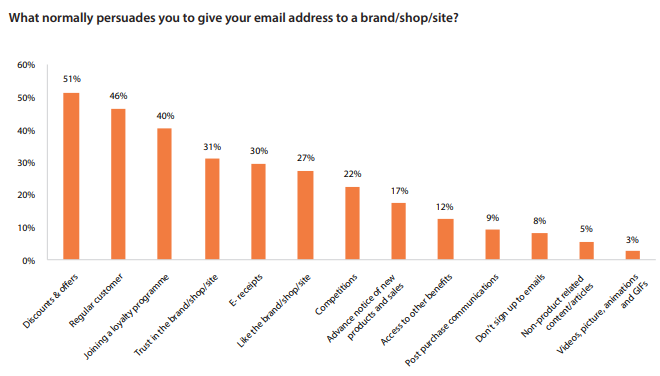 Combine informative and promotional emails to make the content interesting, educational, and valuable to the audience. If your emails are relevant, users will be keener to open, read, and click without being bothered by the newsletters' frequency.
To understand what your subscribers want to see in their mailboxes, consult the opening and click rates. and ask for feedback. Don't be afraid to "disturb" your readers; they gave explicit consent to receive your messages. Just be sure to abide by what you promised in exchange for their authorization.
Tips for Setting the Frequency of Email Marketing
Even if every brand is different, there are a number of good practices regarding the frequency of marketing emails.
1 – Allow users to choose how often they receive your emails
Offer users a choice. At the bottom of your message you can insert a link to a preference center.
You might put a lot of effort into creating the newsletter for your subscribers but they're probably receiving emails from many other brands every day. That's why they should be able to decide how often they want to see your name in the mailbox.
2 – Watch your content
Your goal is to send a large number of messages so you should use a dedicated email marketing tool. Gmail and Outlook will only disappoint, both in terms of newsletter visualization and delivery rates.
Professional email marketing platforms allow you to draft messages designed around the identity of your brand, to send them safely, and to be able to consult detailed statistics at the end of each campaign.
Using these tools is very simple, even for those who know nothing about computer science and programming languages.
3 – Test your sending and check the stats
The wrong way to manage the frequency of email marketing is to proceed mechanically, ignoring the reactions of your audience.
Your audience, product and goals are unique so you'll need to experiment constantly, especially in the early days of sending newsletters. Over time you will understand what tone of voice, email subject, and content your subscribers tend to appreciate.
Conclusion
Spending time developing an email marketing plan is a strategy that pays off. It's the only to produce a sending rate that suits your content.
In summary: send 1-8 mailings a month, at a rate of 1-2 a week. Use a professional email marketing platform and take care of the content. And make sure that your messages resemble emails you would like to receive and read.