Every day you open your email inbox and find newsletters to which you have subscribed—sometimes without even remembering exactly when or why. In less than a second, you decide whether to click and read or ignore and delete. What's the biggest factor that determines that decision?
The answer is usually the subject of the email.
The Reason You Send Newsletters
If your marketing strategy includes newsletters, your company will have at least one of these goals:
To develop relationships with users, for example by involving them in a promotional campaign;
To inform readers of your company's news, and offer them opportunities that they can take advantage of, such as a new feature;
To strengthen the authority of your brand by showing its skills and professionalism;
To highlight the interest, usefulness, and convenience of your products and services.
Whatever the message, it has be condensed into the 30-60 character limit of the mail subject. Using ten or more of those characters to type "newsletter" (October, Christmas, monthly, seasonal, black friday, etc.) is a waste. It costs you an opportunity to convey a more interesting and central message within your email marketing strategy.
So does repeating yourself in the subject of a newsletter that isn't transactional message, such as a welcome email or order confirmation.
In this article, we offer 5 factors that you should consider when writing the subject of your newsletter.
1 – Include the User's Name
A recipient who reads their name in the subject of the email has a better chance of remembering the brand contacting them. This is not an advantage to ignore, considering the volume of emails everyone receives each day.
Draft the subject of the email and insert the placeholder with the name of the recipient in the appropriate place. The opening rate of your newsletters will benefit.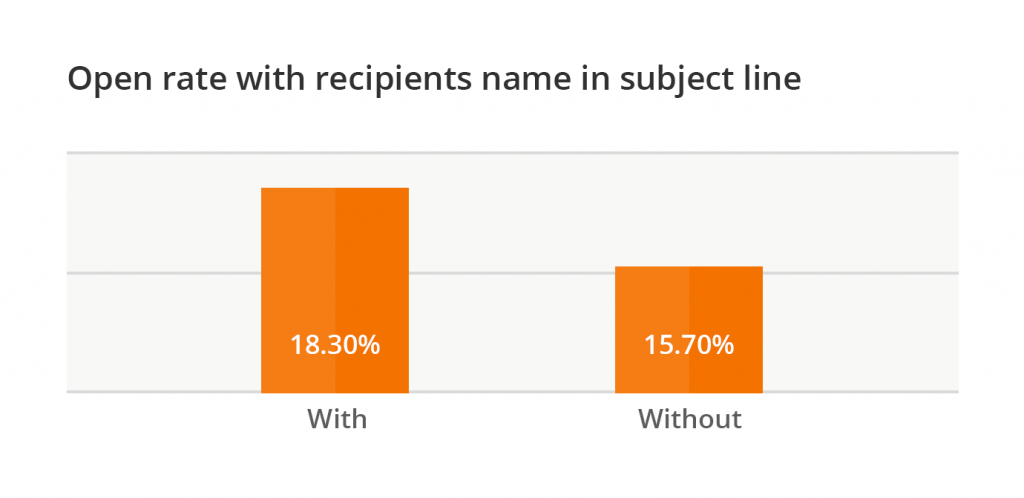 2 – Communicate a Sense of Urgency
We have plenty of choices to make every day—whether it's what to shop, what to wear, what to eat, and so on. This means that there is a lot of competition for your subscribers' attention. You want your subscribers to act now before they're distracted.
The use of content that drives subscribers to take immediate action is an effective way to increase email openings and, ultimately, deliver sales.
This does not mean spreading discomfort—"Act now or lose it all!" It means creating a sense of urgency through creative formulas that suggest a deadline or a short-term, valuable opportunity. For example, the market for training courses often employs expressions such as:
HTML/CSS for beginners – still 24 hours to register
Last 5 places for the PR Manager course
Sean, 30% early bird registration ends at 6pm
Emails sent to customers who abandoned their shopping carts might be told that:
Stocks are limited
The items you have chosen may run out
Right from the subject line, readers see that they have to read on and act now.
3 – Segment Your Subscribers
Divide your contact lists into segments that share an important characteristic, such as age, profession, location, gender or any other information collected during the registration process.
That will let you write email subjects that are much more relevant for recipients.
For example:
Big city stress? Try our delicious natural infusions
Anna, here's your checklist before your trek
Skype VS Slack: the ideal tool for web conference
You don't need to write a different newsletter for each segment. You can just change the email subject, taking inspiration from the email's contents.
4 – Solve a Problem
Newsletters can appeal to a desire to shop or be informed. But they should provide a useful (or at least interesting) contribution to users. For example:
Tom, be inspired by the world's cycling champions
Wanted: beautiful and affordable bathroom furniture
Sneakers, the best offers on Facebook
Gaia, new flavours on the menu! Let yourself be tempted
5 – Offer a Reward
A reward can strengthen the link between sender and recipient. You can offer those rewards immediately after registration, following a recent purchase, after completing a form on a landing page, and so on.
For example:
Welcome Alex, download your free ebook
Ada, thanks for the review. Here is your coupon
Carl, renew your plan and get a $30 voucher
Conclusion
There are many ways to pass on a message effectively and without writing "newsletter" in the subject of the email. With a little thought and energy, you can prevent your emails being deleted without being read.
Match the subject of the email with a preheader and you will have the perfect start for your newsletter.