Email marketing for hotels after Covid-19

Firing up your hotel email marketing again
The Coronavirus pandemic has caused inevitable changes in all sectors, including email marketing for the hotel industry. After the lockdown, hotel facilities have had to adapt, not only to guarantee guests' safety (using mandatory masks, eliminating buffets, employing sanitization at the entrance, etc.) but also reprogramming their email marketing strategies. The restart is not easy and hotels are facing problems caused by the reduction of reservations and tourism.
Customer needs have also changed. Tourists are frightened and want to be guided and reassured. This is where hotel email marketing comes into play. With a targeted email campaign it is possible to meet the new needs of guests and attract them to your hotel, conveying through promotional messages and newsletters that sense of security that the pandemic has damaged. Contact list segmentation, list cleaning and optimization, geographic targeting, and the use of email marketing software are just some of the ways in which you can send valuable newsletters and ensure that potential customers become new guests even in the time of Coronavirus.
Email marketing lists – EDM marketing best practices after Covid

The segmentation of mailing lists is fundamental in any truly effective email marketing campaign for hotels. By dividing a target audience into smaller groups, you can send emails with targeted content, improving the open and conversion rates. Let's see what kind of segmentation you can do in order to live and work with the virus using the best email marketing strategy.
Email marketing for hotel industry: active contacts
A good hotel email marketing software will allow you to easily create targeted contact lists. For a post-Covid winning strategy, that first list could group together "active contacts": users who have recently interacted with the latest emails you sent.
For example, if your hotel recently sent a newsletter to inform subscribers of the closure of your hotel due to the lockdown, potential guests who showed interest in that content will also be interested in receiving and reading a newsletter that tells them that the hotel is reopening.
Email marketing services – Monitoring new members
Recent subscribers are the most interested group of users for the post-lockdown restart. New subscribers acquired during the closure or immediately after the lockdown have shown an interest in your hotel because they were probably planning a holiday during better times.
Those new subscribers represent contacts that can be easily converted into customers if stimulated with the right offers and reassurances about the safety and protection measures that the hotel will provide.
Recovery of lost customers through the right email marketing strategy
The lockdown forced an immediate closure of most businesses, especially of hotels and resorts. Email marketing can help any hotel that has suddenly seen a massive cancellation of bookings because of the Covid pandemic.
Users who booked a room before the emergency and who have had their reservation refunded may still be potential customers. Those who were interested in your hotel, in fact, may consider rescheduling the holiday they had organized by booking a new stay.
For those customers, the content of the newsletter must be reassuring. The guests had already chosen the location and your hotel, so you don't have to convince them of the value of your offer. The emails should be more informative than promotional and focus on the security measures that the hotel has taken with the reopening.
Cleaning email lists – Post-Covid geographical targeting
With the Coronavirus emergency, traveling is still subject to restrictions. Although the course of the pandemic is clearly improving and most European and non-European countries have reopened their borders and eliminated the need to quarantine, there are still exceptions.
So it may be useful to temporarily delete from your mailing lists all those contacts who – due to their geographical area – are not currently able to book a stay in your hotel. Your contact lists will be more compact and coherent, and they will focus on a very precise and easily convertible target. You'll be able to optimize your results and personalize your promotional messages and newsletters. And because you won't be annoying contacts who are not currently targets, you will also be able to keep your unsubscribe rate low.
Hotel Email Marketing – Content and sending frequency at the time of coronavirus

How not to end up in spam
In this difficult moment it is important to convey a positive message with your email marketing. You need to do more than offer a coupon or bombard your subscribers' mailboxes with messages to get conversions.
Replacing an aggressive and high sending frequency strategy with a softer approach will allow you to focus on specific lists with ad-targeted messages sent with a lower frequency. To be sure that your emails arrive at their destination and to monitor the results of your hotel email campaign, use hotel email marketing software such as EmailChef, a professional tool that offers customer care in your language and guarantees maximum deliverability.
Empathy and security: responding to guests' needs with newsletters
If it is not enough to promote a hotel by offering discounts to regular or potential customers, what can you do to help your company to grow despite Covid-19? The answer is to make maximum use of your email marketing strategy. Offer answers and reassurances to any questions that guests might ask before making a reservation.
Your email content in this period must be written in a warm and empathic tone, and reassure users about the anti-viral security measures that the hotel has adopted for the restart. But there's more. The scientific community does not rule out a second wave of the virus and the possibility of a future new lockdown. The chance of losing the money spent on a holiday that could suddenly be canceled could discourage people from making a booking. For this reason, it is important to acquaint guests with the payment options (advance payment, payment on arrival, free cancellation, etc.) and with any changes to the reservation rules that the hotel has made.
Here you can find a series of sample questions that you can try to answer in a post-Covid email marketing campaign for hotels:
What measures is the hotel taking to protect guests and employees?
Which group activities will not be possible and which have been canceled?
How will the common areas (halls, swimming pools, sports grounds) be managed?
What are the frequencies and methods of sanitizing rooms and common areas?
Are the places of interest in the area (monuments, museums, beaches, restaurants) open? If so, is it necessary to book in advance?
Are booking dates flexible?
What payment methods are available?
Will all stays be refunded in the event of a new closure due to Covid-19?
Is free cancellation available or will there be penalties?
Our hotel newsletter templates, try them now
NEWSLETTER EXAMPLE – Email marketing for hotels after Covid-19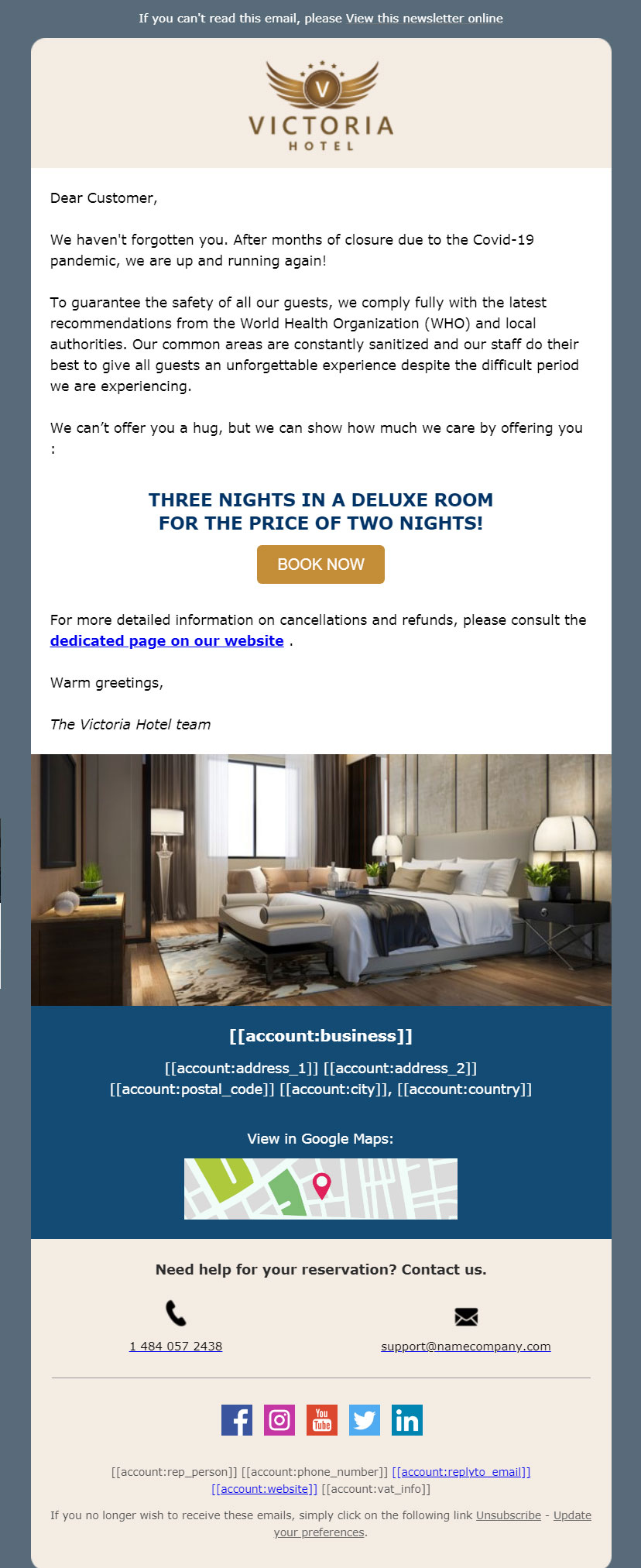 You can find this template inside Emailchef's "Travel" Section
NEWSLETTER EXAMPLE – Email marketing for hotels after Covid-19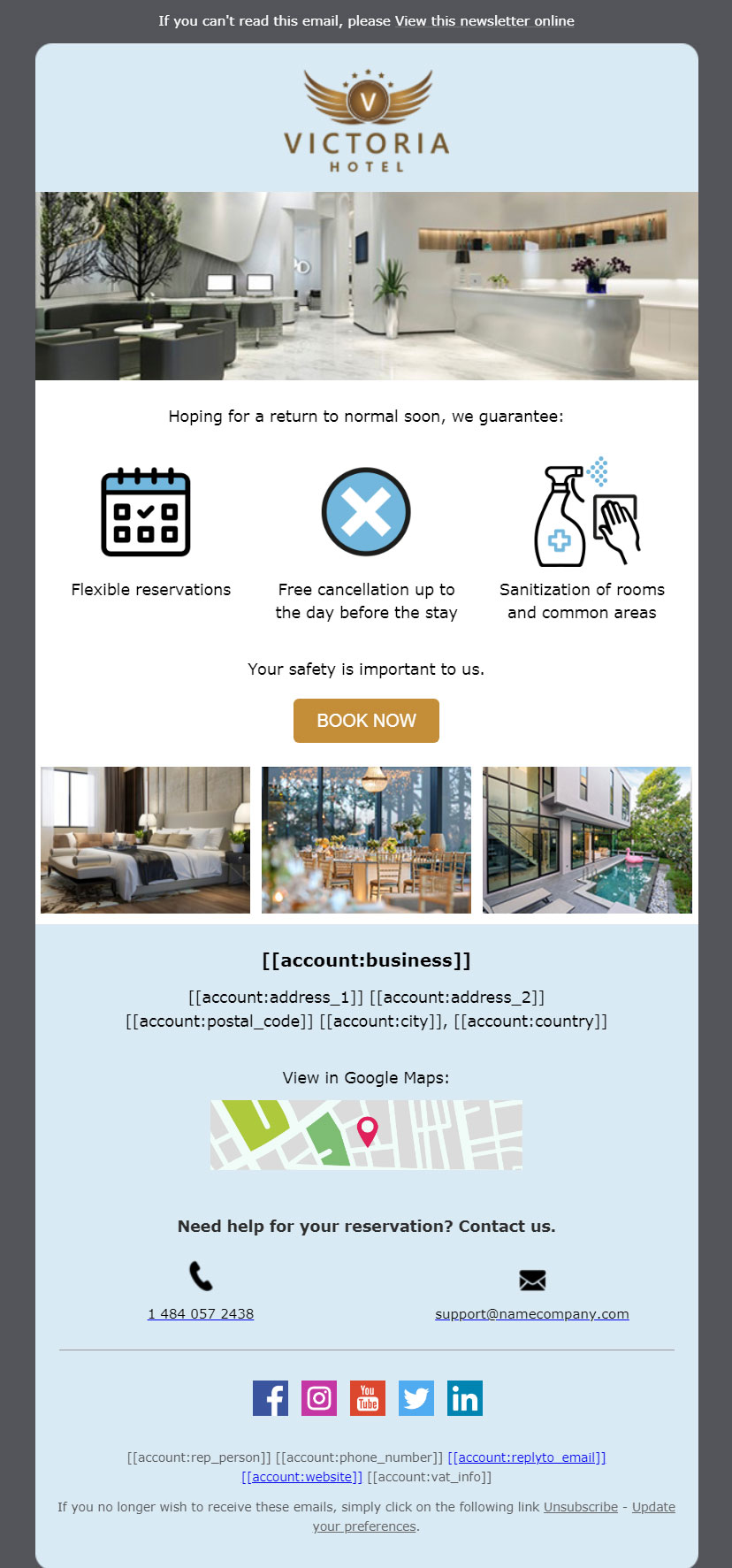 You can find this template inside Emailchef's "Travel" Section