By using Newsletter > eMailChef > Sync/Segment Customers it is possible to manually transfer customer data and segment them by using a number of variables and optionally putting them in a new group (instead of the default one).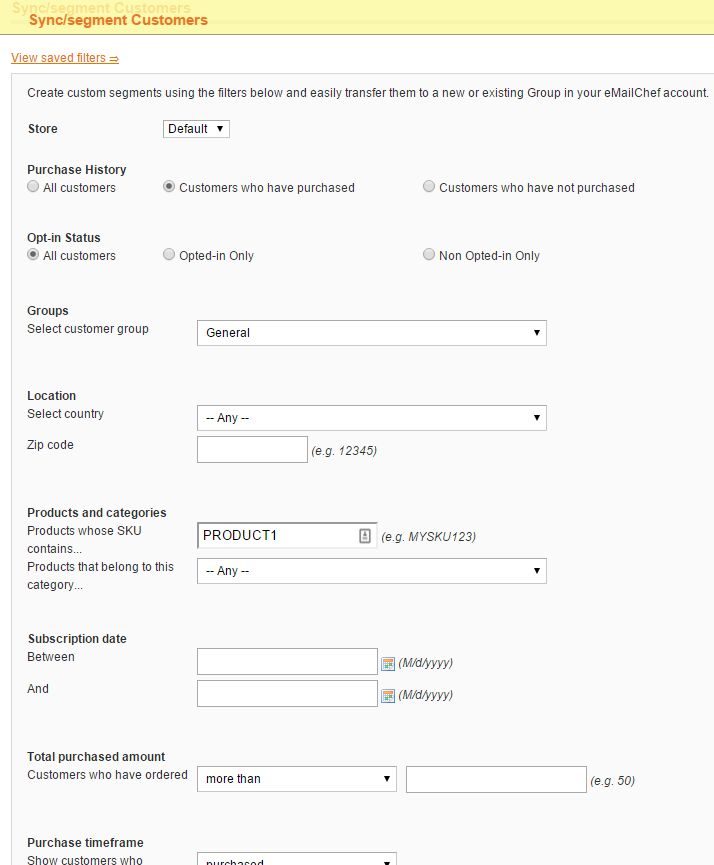 This is very useful as there are some customer information that can't be transferred to eMailChef contacts attributes. For example it is possible to create a segment based on customer's order history. Available filters are:
store: segment based on which store the customer was created in;
purchase history: quickly segment based on whether customers purchased or not. The definition of what a purchase is depends on the order statuses that you selected in the settings;
opt-in status: filter customers that have vs. have not opted to receive emails from the store;
groups: select a customer group;
location: filter based on country and/or zip code;
products and categories: filter based on purchase of a specific product (SKU) or product category;
total purchased amount: segment customers that have purchased more, less, or exactly a certain amount;
purchase time frame: restrict results to customers that have purchased or not purchased during a specific time period.
After creating your segment, you may have to wait some minutes to have it synchronized to eMailChef Dashboard.